KEG's Just A Blur BDD, DD, RPT
ABC 246751
BCO-2845
BCO-6537G31F-PI
Coat Color: BBEe (Health Gene)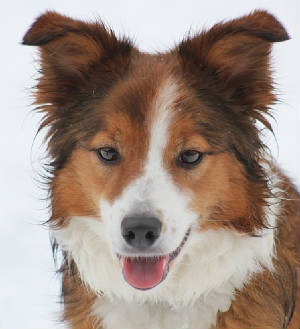 Blur and Glen's Pups of the Past
Cassidy's daughter, our sable girl is mother to our 2008 litter with Warren Mick's Glen and Linda Husson's Token in 2009, and the Crime girls of 2011. As a young pup she passed her CERF (normal) at 6wks, had many tricks down by the age of 11 weeks, and passed her RPT for disc at 16 weeks of age!!
Her first year of disc competition proved a success! Blur was able to start disc competition in the spring of 2005 and got her DD in a hurry, even matching Shanzii point for point tying her at 2 trials over that summer. She finished her qualifying legs and competes as an advanced disc dog at CDDA trials, while dabbling in freestyle.
What can I tell you about Blur...I am not sure if I can find words to describe her. When she is playing, she is working. She is serious, focused, and agile. Her passion is watching our livestock despite human schedules conflict with the pursuit of formal training. Her style undeniably fits true working lines. In the house she is calm, patient, and willing to cuddle w/o the typical BC demands of constant toy hurling requests. She makes life with border collies look like anyone can do it.
In today's modern world sheep dogs can't all have their own flock but we are proud to see KeepEmGoing offspring in performance venues such as flyball, disc,agility,herding, and dockdiving utilizing the qualities Blur has passed to them.