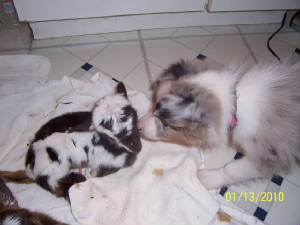 Welcome to our page!! Keep Em Going is a small hobby farm on ~35 acres with views of the historic Erie canal. We are located on the WESTERN side of New York State, just south of Lake Ontario situated between Rochester and Buffalo.



WHAT'S NEW in 2019...



We dispersed our Nigerian Dwarf Goat herd and Shetland flock a few years ago.

This website is RARELY maintained but has some of our history so I have NOT completely abandoned it. Please find KeepEmGoing Farm on facebook and instagram to like/follow current events.



Our sheep flock is fine wool White and Colored Cormo.



Sheep Shearing was in April and we only have a partial fleece left for sale.



We are planning a Border Collie Litter out of Hildii this summer.



I occasionally have handmade and fiber items available on Etsy.